Employment Support for people with learning disabilities
There is lots of support available in Southampton for people with learning disabilities who are looking for work. We've put together this guide to help you find out who can help you.
Who can help me get a job?
Southampton City Council's Employment Support Team offer free, 1 to 1 support for people looking for work. We can support you to write a CV, apply for jobs and prepare for interviews. We are also able to help your employer to make adjustments, provide training and we can even work alongside you while you get used to your new job. Find out more about how we can help by clicking here.
If you are receiving work related benefits like Universal Credit or ESA, you will have a Jobcentre Plus Work Coach who can help you to find work. Find out how to contact your local Jobcentre Plus on the GOV.UK website.
Access to Work
What is Access to Work?
Access to Work can help you get or stay in work if you have a physical or mental health condition or disability. The support you get will depend on your needs. Through Access to Work, you can apply for:
A grant to help pay for practical support with your work
Advice about managing your mental health at work
Money to pay for communication support at job interviews
How to apply
Check you're eligible and then apply for an Access to Work grant.
Easy Read Guides
Mencap have created some really useful Easy Read guides that explain the process of looking for paid work. They cover the following topics:
Finding a job or work experience
Application forms and CVs
Going to a job interview
Starting work
You can download the guides and print them off from the Mencap website. Visit the Mencap website by clicking here.
Project Choice Supported Internships
Promoting employment opportunities for Interns with learning difficulties/ disabilities and/ or Autism through a supported internship course
Project Choice is a specialist College providing tailored educational support, and a supported internship course for young adults aged 16-24 with learning difficulties and/or disabilities, and/ or Autism.
We partner with NHS healthcare settings, local organisations and private businesses to create supported work environments to provide real work experience for our Interns.
Our support is tailored to each Intern, based on their skills and interests.
Interns spend 1 year learning maths, English and employability skills and attend up to three, 12-week placements with a Project Choice Partner.
We support young people to gain work skills through 3 stages of development to access employment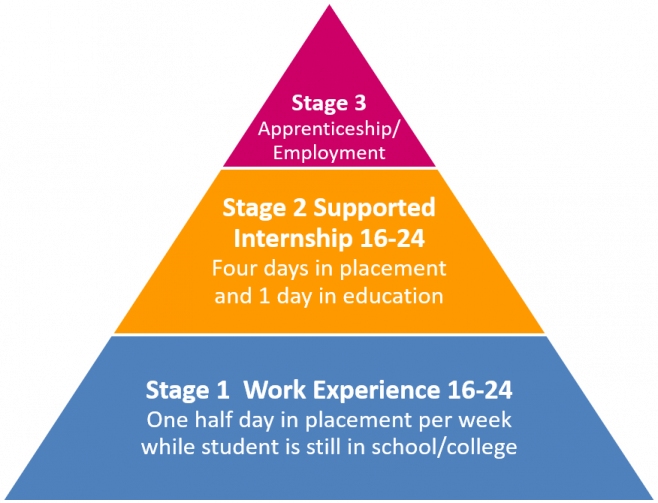 Find out more by clicking here: Project Choice – Supported Internships | Health Education England (hee.nhs.uk)
Solent Get Into Employment
Solent Get Into Employment provides tailored, flexible 1:1 support to Neurodivergent people, including those who have Learning Disabilities and Autism to gain and retain employment.
For further information call 07855788139 or email mandy.burdfield@southampton.gov.uk
Learning Disability Employment Service
The Learning Disability Employment Service is for adults with learning disabilities who want to explore paid employment, further education and voluntary work. We also support individuals to increase their independence skills, including travelling independently and community or leisure access.
Age criteria: 16+
Eligibility Criteria: Receiving support from Southampton City Council's Learning Disability Team
Email mandy.burdfield@southampton.gov.uk
Read Easy Southampton
Helping adults learn to read isn't just about enabling them to enjoy a good book. It is so much more.
By improving their literacy, Read Easy also helps our readers to improve their employment opportunities as well as their ability to support their families, allowing some to take their first steps out of poverty.
Everyday tasks such as paying household bills, using a cash point machine, reading the instructions on a medicine bottle and doing the weekly shop are no longer overwhelmingly challenging.
Learning to read also hugely increases a person's confidence and can enable them to take a much more active part in their communities and society as a whole.
Find out how to get support to learn to read with Read Easy Southampton:
Read Easy Southampton – ReadEasy
Ambitious Youth Network
Ambitious about Autism has launched the UK's first online platform for autistic young people.
The Ambitious Youth Network will offer autistic young people aged 16 to 25 a safe and moderated online space to help them understand their autistic identity and reduce isolation and loneliness that many feel.  Young people will be able to take part in peer support sessions, share experiences and find volunteering, work experience and employment opportunities. There will also be opportunities for them to work together and campaign for change. 
Find out more: Join the Ambitious Youth Network | Home (ambitiousaboutautism.org.uk)
Safe Places Scheme
The Safe Places scheme is part of a wider 'Respect me' campaign which aims to improve the experience of disabled people in the community.
A 'Safer Place' is an ordinary business or shop that has agreed to offer support if someone has a negative experience when out in their local community. A person can enter the premises and receive help in contacting a trusted person, or the Police if they have been the victim of a crime. The venue provides a safe place for the person to wait for their trusted person, or the Police, to arrive.
People are invited to complete a card which the shops recognise. It gives their name and the number of someone they trust who can be contacted. Locally you can get a card from the Police or by phoning 023 8083 4854. Please email safeplace@southampton.gov.uk to ask any questions.

This map shows all the Safer Places in Southampton and it is updated regularly.